18+ | commercial content | begambleaware.org
The Betfair live casino app is now released and adds to the growing range of apps from Betfair, covering sports, casino, and poker. From the same account, you can now access all the different apps.
Unfortunately, due to the software, this app is only available on i0s currently. If you are on android or any other phone you can still play on the mobile casino versions or you can claim and play live casino on your desktop computer. There is a Betfair casino app on the Play Store but this is just the standard casino rather than the live version.
The app is available in the app store and is free to download, it is a rather chunky app at 44MB compared to the size of the Betfair sportsbook app – click here for review.
Betfair live casino app review
Betfair remains one of the best-loved and most-used sportsbooks around, and they have secured the nickname of 'kings of innovations' after introducing a number of features to online betting that has since been replicated – but never bettered – by many of their competitors.
And here's another innovation from the brand: their Live Casino App, which brings the thrills and spills of casino gaming to your fingertips. And before you ask yes, it is live, with footage filmed exclusively from Betfair's dedicated casino in Riga, Latvia. So what you see in front of you on your mobile/tablet is actually taking place! The streams run all day with an increase in the number of seats on offer and price ranges in the evenings and on weekends.
Here is how the app looks –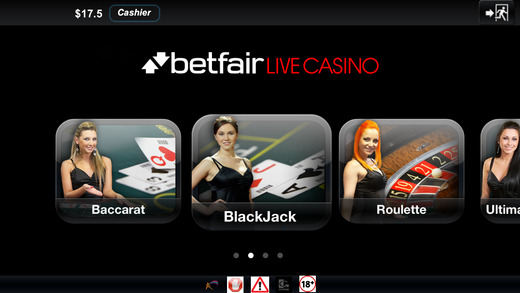 Live Casino Stats
The Betfair live casino app has something extra to offer players with the stats on the last 500 spins on each of the roulette tables. This means you can get full stats of how many times a specific number has come out as well as how many times 0 has come out! You can use these stats to plan your numbers if that's how you like to play, but remember there's a one in 37 chance of any number coming out at any spin.
You will also get the stats of the last 10 games and what numbers they were when in play. This is a handy guide if you've just come to the table and want to play in your own strategy or style. We really like this feature as you can get straight into the action with all the stats and data you could need.
Aesthetics/Layout
As we've come to expect from the masters of innovation, the app looks absolutely superb and offers players an effortless sense of ease.
The game screens look and feel like the real thing, and while nothing can replace the excitement of live gaming in a land-based casino, this is the closest you will get without needing to get the tux dry-cleaned.
The game screens ensure a fantastically authentic experience; you'll feel like you're engaged in live casino action in the comfort of your own home.
With such contemporary graphics and an intuitive layout, the app is a joy to use. You'll find navigation a cinch, with nice big buttons outlining the categories of games on offer and pointing the way to your account, payments, etc.
Crucially for a live casino app, the buttons and menus are nice and large, so when it comes to placing your chips the risk of error is minimised; nobody likes wagering more than they want to due to the difficulty of managing small buttons.
Overall this is as close to being in the casino as you can get.
Features
The app is jammed to the rafters with features and goodness to enjoy. Live Roulette, Blackjack, and Baccarat are all available with live dealers, and as previously mentioned this is genuine real-time action filmed on location; not rather crude and grainy video footage that some apps and online casinos use.
Tables available
Live blackjack – various stakes and tables available
Live roulette – many players at the same table
Quantum roulette
Prestige roulette
Slingshot roulette
Progressive Baccarat
Unlimited blackjack
VIP Roulette
There are a vast table choice and super smooth gameplay, and it obviously helps that making payment – whether that's a deposit or withdrawal – is an absolute breeze.
As well as the standard games there are options for other more game show type games –
The Payback
Buffalo Blitz
Sic Bo
Dragon Tiger
High-Lo
Casino Hold-em
Summary
As we've come to know and love from Betfair, any app they release is likely to be a game-changer. And so they've proved once again with their Live Casino App, which delivers a truly authentic casino experience for your mobile/tablet. The choice of games is sensational and keeps growing with more updates. The facilities on the app for account management and responsible gambling sets them apart from other apps in this market.